Two  years ago I posted suggested entertainment for newly coming out gay adults to catch up. You may want to read part I of Movies, TV Shows and Plays Oh My! first.
In just two years there have been some excellent additions, and there are some I missed that I want to highlight here. I don't have cable, so all these can be seen on streaming services (Amazon Video, Netflix, or Hulu). These are not all necessarily all centered on a gay theme. Some of them just have major characters who are gay while the plot revolves around something else entirely.
I desire all to receive it. Enjoy!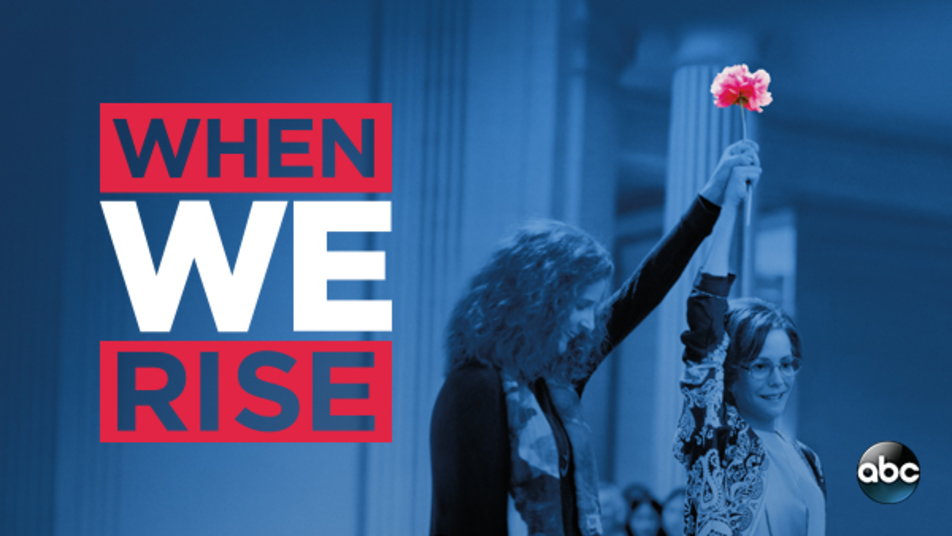 "When We Rise" chronicles the real-life personal and political struggles, set-backs and triumphs of a diverse family of LGBT men and women, who helped pioneer one of the last legs of the U.S. Civil Rights movement from its turbulent infancy in the 20th century to the once unfathomable successes of today.
This should be required viewing for anyone coming out or anyone who has a loved one coming out. There are a lot of pioneers who paved the way to make it easier for us today.
In this USA Network TV series, two innocent teenage boys secretly meet up in the forest and witness a triple homicide. They barely escape with their lives. Desperate to keep their relationship a secret and in fear of being found by the perpetrator, they remain silent, but soon learn that what has been seen cannot be unseen and when you witness a horrible event it changes everything, forever.
Unfortunately, Eyewitness wasn't renewed and there's only 1 season. It has so many plot twists and unconventional characters that I found it riveting. The two main characters are gay and that is a major factor in the plot development, but it doesn't belabor their homosexuality. This show would be in one of my top TV shows of the decade easily.
This film uncovers the fascinating universe of one of the first gay liberation communities in the world, place in Zurich Switzerland in the 1930's. The film, based on true events, depicts a decades-long love story — made taboo by society — and reveals the couple's inspiring self-knowledge and courage.
Tim and John fell in love at their all boys high-school while both were teenagers. John was captain of the football team. Tim an aspiring actor playing the lead in Romeo and Juliet. Their romance endured for 15 years to laugh in the face of everything life threw at it – the separations, the discriminations, the temptations, the jealousies and the losses – until the only problem that love can't solve, tried to destroy them.
From the co-creator of Friends, Netflix original comedy GRACE AND FRANKIE stars Jane Fonda and Lily Tomlin as two women who form an unlikely bond after their husbands reveal they are gay and leave them for each other. I personally don't like this show I've only seen about 5 episodes. I love all the actors, but I either find it too close to home to be funny or too far from reality to be taken seriously. The bottom line is that I don't find it funny in spite of the fact that it seems to be very popular.
A traditional Irish Catholic family's world is turned upside down in this offbeat comedy when the oldest son reveals he's anorexic, the younger son comes out, their daughter starts questioning her faith, and the parents announce a potential divorce. It is loosely based on the life of Dan Savage, the gay sex/relationship podcaster who started the whole It Gets Better Project. There are 2 seasons so far and I find it far more whimsical and even true to life than Grace and Frankie.
Bruno, an architect, has a nice family and a good job. But he's also plagued by a deep sense of unease, so he decides to leave his wife to be alone and find himself. Relocating to Santiago, Chile, Bruno starts working with a young local history teacher named Fer. When an unexpected and intense romance sparks between them, Bruno must decide where his life will go from here. I like this because one of the characters is married and I'm also a sucker for the fresh perspectives of a foreign film.
The Emmy Award and Golden Globe-winning series TRANSPARENT returns for a third season. The Pfefferman family splinters into disparate journeys on their continued path of self-discovery. After a jarring reality check, Maura seeks to become the woman she envisions through gender confirmation surgery. All paths converge on a family cruise to Mexico, affirming that though their family history is murky, each Pfefferman is their truest self when they come together.
One moment links 8 minds in disparate parts of the world, putting 8 strangers in each other's lives, each other's secrets, and in terrible danger. A couple of gay characters and bisexual situations are secondary to the plot, but the icing on the cake in this binge-worthy series.
A Spanish production where Philosophy teacher Merlí's disregard for rules riles director Toni but enchants his students, who struggle with family, identity, romance and fear. Merli's son is gay and this subplot carries throughout season 1.
Although 28-year-old Louis XIV is the sole ruler of France, the nobles remain a thorn in his side, prompting him to move the court from Paris to Versailles and begin building the palace that will become his home — and their cage. The king's brother maintains a gay lover.
When small-town auto mechanic Adam announces to his best buddies that he's gay, they're stunned and bewildered at first. But after the shock wears off, they learn everything they can about being gay and set out to help Adam find a beau. It's cute and something you could watch with a straight friend.
Other People (Netflix and Amazon Video)
A struggling comedy writer, fresh from breaking up with his boyfriend, moves to Sacramento to help his sick mother. Living with his conservative father and younger sisters, David feels like a stranger in his childhood home. As his mother worsens, he tries to convince everyone (including himself) he's "doing okay."